Rurouni Kenshin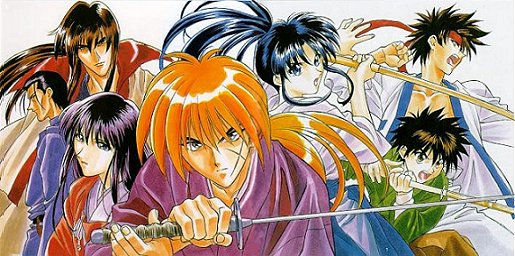 Rurouni Kenshin is a manga, by Nobuhiro Watsuki, that is currently being aired in Japan as a popular anime. This is the story of Himura Kenshin, a 28 year old infamous ex-assassin. Now he is a wanderer (rurouni) who has settled with a small group of people. Still a master of the sword, he protects those around him to make up for all the countless lives he took in his past while living the life of a very effective assassin. He keeps his nonkilling promise by using a sword with an upside-down blade (only the back is sharpened, leaving the front side blunt). Kenshin is in one in the center of the above scan.

Kaoru Kamiya is a young woman of seventeen who owns a small martial arts school. She inherited it from her father and now runs it. She took in Kenshin, as well as a few others.
She's pretty good with the sword, but often times bites off more than she can chew and winds up being rescued a lot.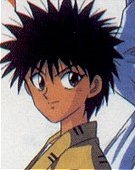 Yahiko Myojin is a ten year old ex-pick-pocket who was taken in my Kaoru as well. He spends the majority of his time driving her crazy and when he's not doing that, he wants to grow up to be just like Kenshin. Yahiko is an orphan whose only family is now Kenshin, Kaoru and Sanosuke.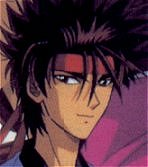 Sanosuke Sagara is a nineteen-year-old ex-gangster who aspired to kill Kenshin with a bigger-than-life sword at the beginning of the series. He eventually became a good friend of Kenshin. He likes to hang out at the dojo but actually has his own little ill-kept pad. Instead of weilding the huge sword, he now uses his body to fight.
When Sano isn't beating up on Yahiko, he's running up a huge tab at a local restaurant.



Kenshin and Some of the Others...

Kenshin and his Master (and a mini shrine of Hiko)
Mail Rence Back to Rence and Frankie's Anime Shrine


This page was created by a fan for fans. All rights retained by Nobuhiro Watsuki and others. No copyright infringement intended. This is only an appreciation page. None of the material on these pages may be used for profit. Material not copyright by the above is copyright 1998 Rence